Pillows
Pillows are the key to a good night's sleep; having the wrong pillow can completely ruin your rest. You'll find the perfect pillow to suit your personal comfort requirements at Meubles.
---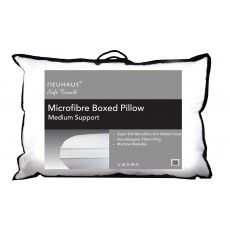 NeuHaus Microfibre Boxed Edge Pillow
This microfibre boxed pillow from NewHaus offers medium support. It has a 3cm wall cover and a boxed edge finish. It is non-allergenic which is great for people with allergies. For features – see belowDimensionsWidth: 74cm Height: 48cmFeaturesBoxed edge pillowNon-allergenic fibre fillingCheck microfibre cover Machine washableAll screens vary in colour reproduction and whilst every effort has been...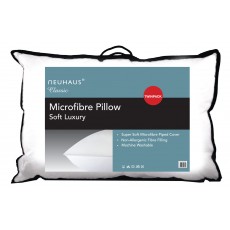 NeuHaus Soft Luxury Microfibre Piped Pillow Pair
This lovely twin pack of soft luxury microfibre pillows from NeuHaus are sure to make sleeping at night dreamy. Filled with a non-allergenic fibre filling and finished with a piped edge, these pillows offer great value for money. For features – see belowDimensionsWidth: 74cm Height: 48cmFeaturesIncludes 2 pillowsNon-allergenic fibre fillingPlain microfibre cover with piped edge finishMachine washableAll...