Fitted Kitchens

---
If you're looking for a beautiful, bespoke kitchen designed specifically for you and within your budget, look no further than Carana Kitchen Design at Meubles Kilkenny. With over 15 years of experience in kitchen design and installation, you can be assured that you'll find the kitchen of your dreams at Carana Kitchen Design.

Telephone: 00353(0)56 7747888 | Email: info@caranakitchendesign.ie

Owned and operated by Daniel Hennessy and John Maher, the company offers the discerning customer the opportunity to buy their desired kitchen and complementary tiles in one place.
Daniel and John have also extensive experience in selling and installing wall and floor tiles and offer this as an additional service to their clients.

They work with leading suppliers in Europe and beyond to offer their customers a broad range of finishes and styles that will suit their home and their style. This includes natural products such as marble, slate, and terracotta along with ceramic and porcelain tiles in a host of styles and sizes.
OUR MISSION
Kitchens and tiles should be measured to your home, crafted in the finest materials to millimetre tolerances all without breaking the bank.
---
---
1. Come and take a look around our showroom and sample kitchen displays at our showroom in Meubles Kilkenny. We are open 7 days a week. Whilst there is no need to make an appointment, we would recommend calling us in advance so we can ensure we have one of our designers available to discuss your exact needs and desires. If you have a plan of your kitchen please bring it along as it will give us a better sense of your space, window and door openings and will allow us to suggest something appropriate to your specific requirements.

2. Once we have collated all your requirements and budget, we will instruct one of our designers to put together a proposal for you. This will take approximately 4-6 days and will include a quotation and some design concepts. We will contact you when this is completed.

3. You will be invited into the showroom to see and review our design proposals. We will discuss the various options available to you and will be very happy to answer any queries you may have.

4. At this stage we will make any amendments required to your initial design concepts and will ensure that your kitchen is exactly what you need and desire. Once you are satisfied with these approved concepts we will proceed to taking a deposit for the project. Our terms are 50% deposit on ordering, 35% on the delivery of your kitchen, and 15% on completion of the project.

5. Once the designs have been approved and the 50% deposit paid, we will visit your home to ensure that we have all the necessary measurements in order so that we can produce your dream kitchen. We are happy to liaise with any other tradesmen who are working on your kitchen and will furnish them with a set of technical drawings to ensure there is a seamless installation process.

Customer Notice:
All 3-D drawings of kitchens are for illustrative purposes only and at no time do they form any part of the contract. Carana Kitchen Design is a concession business within Meubles Kilkenny and as such Meubles takes no responsibility for any product or installation issues customers may have with Carana Kitchen Design.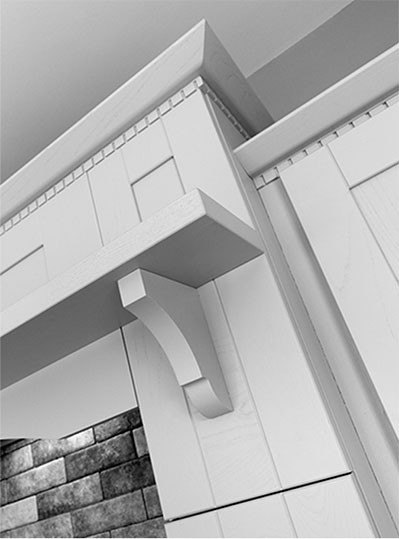 ---
Worktops
Carana Kitchen Design offer Silestone, granite, wooden and Formica worktops to complement each kitchen and budget.

Materials
Your choice of kitchen finish includes high gloss, solid wooden or a painted kitchen. From the high gloss range you have a choice of white, red, purple, black etc. Our wooden kitchen range includes oak, walnut, cherry, ash and beech. And our painted kitchen collection provides you with the opportunity to choose a colour that suits you and your needs be it off-white, cream, grey, indigo or a mixture of a number of colours. All colours used to paint your kitchen are premium quality paints.
Frames
Your choice of kitchen also includes a standard kitchen frame or an in-frame design which has seen its popularity grow in recent years. An in-frame kitchen harks back to the carpentry skills of yesteryear when the door and kitchen frame are flush with each other. Whilst it is a little more expensive than a standard kitchen frame, it does look stunning!
Finishing Touches
To individualise your kitchen or to add that wow factor, we offer a choice of door styles, architraves, door handles and knobs, island units, taps, sinks and more.
Our drawers and cutlery inserts are made from the finest European oak with dovetail joints. We also offer soft close Blum drawers and more.
---