Dinner Sets
A matching dinner set or service doesn't just look great on the dinner table, it also sets the mood. At Meubles we have a great range of dinner sets for you to choose in various styles and price points. Browse our collection to find that perfect item for your needs.
---
Newgrange Living Floral Blues 16 Piece Dinner Set
This elegant dinner set from Newgrange Living will enchant with its delicate design and brilliant composition. It features a truly timeless design with its white fine porcelain and blue subtle details. This set includes 4 mugs, 4 dinner plates, 4 cereal bowls and 4 side plates. It is the perfect choice for an occasion or as a gift. For features – see belowFeatures & Care Instructions Set includes...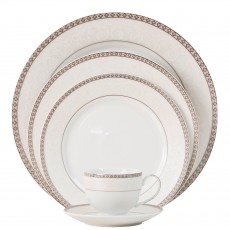 Tipperary Crystal Merrion Collection 20 Piece Dinner Set
This Merrion dinner set by Tipperary Crystal oozes classic styling. Its simple grey and cream colouring sits beautifully on a classic white palette. It includes 20 pieces so is perfect for 4 place settings. For features - see belowFeatures & Care InstructionsIncludes 4 x Dinner Plates, 4 x Salad/Dessert Plates, 4 x Soup Bowls, 4 x Teacups, 4 x SaucersDesigned in IrelandIt is supplied in a stylish...