Belledorm
Established over 30 years, Belledorm have built a very distinguished reputation in the UK bed linen industry for outstanding quality, design and ethical sourcing. The company sources its materials from around the world in countries such as Egypt, Pakistan and Turkey.
By continuously evolving a diverse portfolio of products Belledorm have placed themselves at the forefront of quality and design. Their purchasing and design teams have searched the globe for the most reliable suppliers, the highest quality fabrics and most up-to-date designs. The company's control teams have also set up specific guidelines and specifications to ensure the utmost perfection in each product.
For premium bed linen, look no further than Belledorm. Their fantastic range of premium bed linen is made from 100% Egyptian cotton and varies from 200 to 1000 thread count. When you lie between the covers of this range you'll think you've gone to heaven. With embroidered stitch feature on more premium lines and great softness, this range is an investment that you will regale in year after year. With a 7 year guarantee, Belledorm is a brand worth investing in.
Come and visit our store to see our vast selection of Belledorm sheets, pillowcases and duvet covers is a host of colours.
---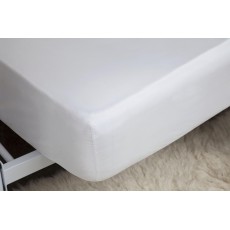 Belledorm 400 Thread Count Egyptian Cotton King Fitted Sheet (15") White
Beautifully soft to touch, Belledorm's 100% Egyptian cotton bedlinen range with 400 thread count is soft and comfortable. With long staple fibres and embroidered hem, this sateen cotton range of bedlinen will last and last. It also features an embroidered hem for sophistication and style. This double fitted sheet in white is 15inches/38cm high so works on a higher mattreses. A normal height fitted...