Duvets & Pillows
We have a fantastic range of gorgeous duvets and pillows being cleared to make way for new lines. Browse our selection here.
---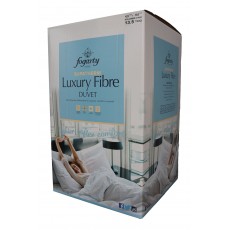 Fogarty Supatherm Luxury Fibre Super King Duvet 13.5 Tog
Fogarty's range of Supatherm luxury fibre duvets are designed with ease of care in mind for those who wish to wash their duvets regularly while maintaining their original comfort and feel. This soft and luxurious hollowfibre super king duvet boasts a 100% polyester filling surrounded by a 100% polyester microfibre cover and topped off with an intermittent step stitch finish. This combination is sure...