HARLEQUIN BANZAI
---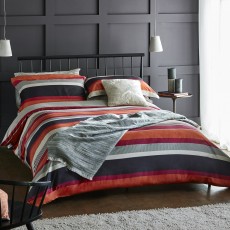 Harlequin Banzai Reversible Duvet Cover Magenta
Confident and bold, the Harlequin Banzai reversible duvet cover features warming, earthy tones with magenta highlights. Finished with charcoal piping and button fastening, this duvet cover also has a fine two tone colour horizontal stripe on the reverse. This unique duvet cover is available in single, double, king and super king. A matching pillowcases also available to complete the look. For features...
Harlequin Banzai Standard Pillowcase Magenta
The Harlequin Banzai standard pillowcase features a horizontal stripe design to complement the reverse of matching Banzai duvet cover. Made from 100% cotton sateen and measuring 74cm x 48cm this magenta pillowcase is the perfect choice for everyday use. For features – see belowDimensionsWidth: 78cm Height: 48cmFeaturesHarlequin Banzi standard pillowcaseMeasures 78cm x 48cm100% cotton sateenMachine...