Water Filtering & Water Bottles
Adding a water filter to your home can make a world of difference. You can help the environment whilst rehydrating! We offer various fridge filters plus on-the-go filter bottles.
---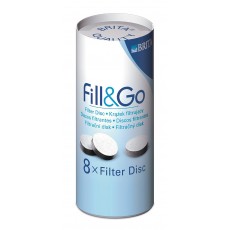 BRITA Fill & Go Pack of 8 Replacement Discs
This pack of 8 Fill & Go replacement discs are specially designed for use with the BRITA Fill & Go water bottles. They feature innovative and compact filter technology to reduce chlorine and other taste impairing substances from tap water. Each disc offers one week of freshly filtered, particle free water. For features - see belowFeaturesPack consists of 8 filter discsInnovative and compact...