---
Tefal Titanium Excel All In 1 Square Pan
This Tefal Titanium Excel ann-in-1 square pan is perfect for all aspects of cooking from frying, baking stewing and even cooking rice! This all-in-1 pan is incredibly durable and contains unique titanium reinforcement that lasts up to 24 times longer than other Tefal pans – and is guaranteed for life! It comes complete with a stainless steel steamer, skimmer and a vented glass lid. Tefal's...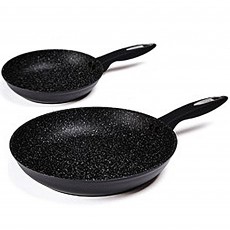 Zyliss Cook Frypan Set Of 2
The Zyliss Cook set of 2 frying pans features advanced ROCK-PEARL non-stick technology, with 3 layer coating delivers supererior non-stick performance and healthier cooking, eliminating the need for oil or butter. Made from forged aluminium, this professional style frying pan is hard wearing, durable and safe for use with metal utensils. With its ergonomic soft touch, heat resistant handle, the Zyliss...