---
ANITEX Emoji Mugs (Set of 4) Multi-Coloured
Add a unique edge to your dining experience with this wonderful set of four emoji mugs. Featuring a creative emoji design on a white background, each ceramic mug will add a touch of colour to your home. Guaranteed to add enjoyment to your dining experience, these stunning mugs would also be an ideal gift. For features - see belowFeatures & Care InstructionsSet of 4 mugsCeramicFeatures emoji design...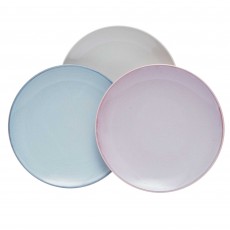 SIMPLY HOME Reactive Glaze Pastels Dinner Plate
Presented by Simply Home, this stunning Reactive Glaze Pastels dinner plate is guaranteed to brighten up your kitchen. Available in three beautiful colours, this stylish plate is microwave and dishwasher safe. Complementary items are also available. For features - see belowFeatures & Care InstructionsStylish plain dinner plate (3 colours to choose from)Made of stonewareMicrowave & dishwasher...