Nest of Tables
A nest of tables are one of the most versatile pieces of furniture for any living room. Whilst compact in nature when not in use, opened up they provide a great surface area for placing drinks and other items when friends and family call round. Our selection of table nests includes traditional and contemporary styles and include table nests of 2 and 3 tables. Browse through our collection to find the nest that works for you.
---
Burrswood Oak Nest Of Tables (2)
The Burrswood Large Nest of Tables showcases elements of classic style, sophistication and functionality. This two piece nest both conserves and occupies the space in your living room. With its sturdy solid oak frame and classic style, you can be sure this piece will not date. This model is also available in a smaller size. Complementary items are also available. For features - see below.Dimensions...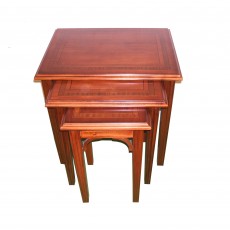 Imperial Mahogany Nest Of Tables (3)
The Imperial nest of tables are both elegant and practical. Featuring 3 tables of various proportions, they will look good in any type of home. Made in mahogany and individually hand coloured and burnished to give a deep, lustrous finish, the Imperial range feature a square inlay detail and mouldings that add character to each table. For features - see below Dimensions Width Large: 54cmWidth Medium:...