Filing Cabinets
Browse our filing cabinets to find the perfect one for your home office. At Meubles we have a great range of filing cabinets for you to choose from. These include 2 and 3 shelve versions and cabinets with doors. Our range ensures that your cabinet looks great in any room of the house and looks more like a piece of furniture than a piece of office equipment.
---
Curve Office Walnut 3 Drawer Filing Cabinet
The Curve range of office furniture is as the name suggests, curved. Each piece features beautifully curved lines and corners and will add a look of sophistication to your home. With a choice of desk size as well as complementary pieces you're sure to be able to create the perfect office environment in the confines of your home. This lovely 3 drawer filing cabinet offers plenty of space to house files...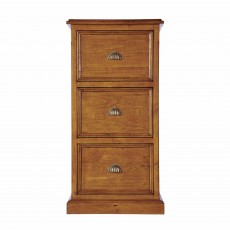 Sandani Reclaimed Timber 3 Drawer Filing Cabinet
Why not let the rustic African charm of the Sandani range of office furniture into your home. Made from 100% reclaimed and recyled pine the Sandani range offers a practical home office collection of furniture that has been created in direct contrast to office furniture that one would find it an typical office environment. The Sandani range is made from timbers that have been darkened to give an almost...