Becky Champagne
The Becky is a beautiful collection of soft fabric bedsteads featuring a cube design headboard and wooden legs. This contemporary collection will brighten up any bedroom with its simple yet elegant design. The Becky will complement both traditional and modern decor.
---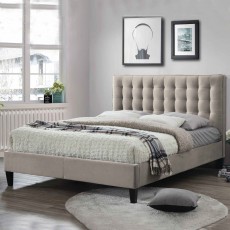 Becky Bedstead Fabric Champagne (Multiple Sizes)
Upholstered in beautiful soft fabric, the Becky bedstead in champagne/beige oozes elegance with its contemporary design. Featuring a cube design headboard and dark wooden legs, the stylish Becky will add a modern and sophisticated edge to your bedroom decor. Guaranteed to brighten up any bedroom, the Becky is available in double and king sizes. Better still, it is also available in grey. For features...