---
Harlequin Banzai Cushion Linen 45cm x 45cm
This Harlequin Banzia embroidered toucan cushion resides on a feather filled linen hued cushion, edged with vibrant orange and ivory piping. Made from a cotton/linen blend this cushion compliments the Banzia duvet range perfectly. For features – see belowDimensionsWidth: 45cm Height: 45cmFeaturesHarelquin Banzai square cushionMeasures 45cm x 45cmFeather filledCotton/linen blendDry clean onlyAll...
---
---
---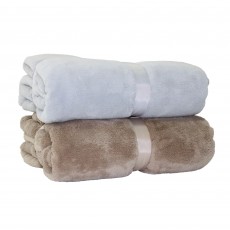 DEYONGS Snuggletouch Silver Throw 140x180cm
This premium quality silver coloured throw by Deyongs is super soft to touch and perfect for snuggling indoors or out. Made from 100% polyester it is machine washable.DimensionsWidth: 140cm Length: 180cmFeatures & Care InstructionsMade from 100% polyesterCare is needed when using with light coloured leather productsWash at 30 degrees, do not bleach, tumble dry on low heat and do not dry clean.All...
---
---