Brita
Meubles are delighted to introduce Brita. Brita's history began in 1966 when company founder Heinz Hankammer had the great idea of optimising tap water in a smart and convenient way. Since then, the company, with its headquarters in Germany, has led the manufacturing of water filter products. Choose from a range of practical and durable water filter jugs.
---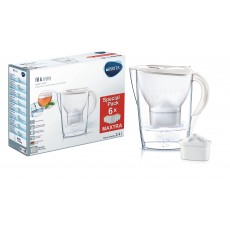 Brita Marella 2.4L White Cool Water Jug + 6 Replacement Cartridges
This BRITA Marella water jug in white has a fresh, modern design with a host of great features to ensure you can enjoy great tasting water at home. It features 6 patented MAXTRA filter cartridges which have a unique 4 step filtration process. MAXTRA has 20% improved limescale reduction compared to the BRITA Classic cartridge. It reduces substances such as chlorine, which affects the taste and odour...