Vipack Noah
This Vipack Noah mid sleeper bed will be the bed of your child's dreams. This mid sleeper has a raised bed with play area below. It also comes with its own ladder for climbing into the bed, while the sides are raised for additional peace of mind at night. The play area underneath has a door and window, making it the ideal area for your child to store their toys. A matching set of curtains is available at an extra cost
---
Vipack Noah Mid Sleeper Bed Curtains
This white Vipack Noah curtain set fits the Noah mid sleeper bed. These curtains fold down for additional privacy and easily roll up when not in use.Vipack are a Belgian bed and children's furniture manufacturer who specialise in the design and manufacture of quality, stylish ranges. Only materials that are eco-friendly and from sustainable forests are used in the manufacture of their furniture....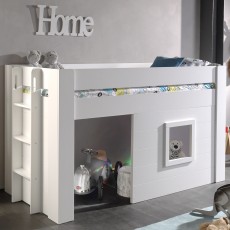 Vipack Noah Mid Sleeper White
This Vipack Noah mid sleeper bed will be the bed of your child's dreams. This mid sleeper has a raised bed with play area below. It also comes with its own ladder for climbing into the bed, while the sides are raised for additional peace of mind at night. The play area underneath has a door and window, making it the ideal area for your child to store their toys. A matching set of curtains is...