---
Mindy Brownes Kaison Wall Clock Antique Brass
This stunning, over-sized iron Kaison clock with its distressed appearance is sure to add a vintage edge to your home. It features an eye-catching antique frame with gorgeous golden champagne Roman numerals and floating hands. It exudes rustic appeal and is sure to tick all the right boxes for both fashion and function. For features - see belowDimensionsDiameter: 152cmDepth: 5cmFeaturesOver-sized iron...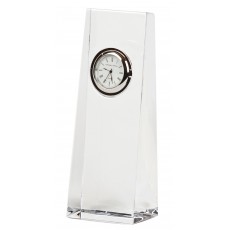 Tipperary Crystal Tempo Clock
Tipperary Crystal are renowned for their beautiful glassware which is evident in their Tempo clock. With simple, clean lines, this unadulterated piece is a beauty. Perfect as a desk clock or on a mantlepiece, who knew that time telling could be so stylish! For features - see belowFeatures & Care InstructionsBeautiful range of modern crystal clocksSupplied in a stylish gift box with ribbon detailing,...