Scion Ocotillo
---
Scion Ocotillo Reversible Duvet Cover Set Dandelion
Inspired by nature, the Scion Ocotillo reversible duvet cover set features a crisp white oval leaf silhouette design upon a contrasting dandelion yellow background. This 100% cotton duvet cover set also features a small-scale geometric pattern reverse along with fine cord edge piping, and is perfect for both modern and contemporary bedroom settings. This set includes a duvet cover and 2 oxford pillowcases...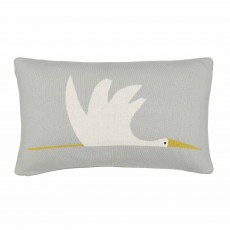 Scion Ocotillo Cushion 30cm x 50cm Grey
Add an element of fun to your bedroom setting with the Scion Ocotillo Colin Crane cushion in grey. This knitted 100% cotton accessory cushion is fibre filled offer excellent comfort as well as style. This cushion will perfectly complement the Ocotillo duvet cover sets. For features – see belowDimensionsWidth: 50cm Height: 30cmFeaturesFibre filled accessory cushion100% cotton coverMeasures 30cm...