Christy
Christy is a brand with great heritage. The story begins in 1850 with the invention of the towel as we know it today…
Henry Christy returned to England from Constantinople with a sample of looped pile fabric, which was new to the Western world. After studying the fabric along with his inventor brother, a machine was created which allowed terry towelling to be produced on a large scale.
A year later, the first Christy terry towel was in production and this was shown at the Great Exhibition in 1851. Her Majesty, Queen Victoria, was presented with a set of these, she immediately ordered more and the rest as they say is history…
Each and every Christy item is made with the finest quality cotton, to give you a spa-like experience in your own home. Supima Cotton and Egyptian Cotton gives their products a super-soft feeling that is long lasting.
Why not indulge in luxury with a bathrobe, perfect for you and your partner, or as a thoughtful gift for family and friends.
At Meubles you'll find Christy towels, bathrobes and bath mats in a variety of colours and styles allowing you to mix and match to create a unique look for your home.
---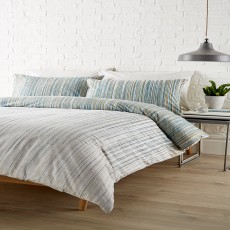 Christy Kingsley Linear Reversible Duvet Cover Set Denim/Mustard
Discover the luxurious Christy Kingsley Linear reversible duvet cover set available in a subtle denim and mustard colourway. Made from 100% cotton with a thread count of 180, this timeless duvet cover set comes with 2 standard size pillowcases (one pillowcase for single) and will suit both modern and contemporary bedroom settings. Also available in a yellow and coral colour combination, this elegant...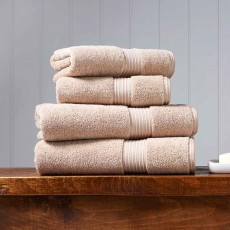 Christy Supreme Hygro Towel Stone
Part of Christy's Supreme towel collection, this luxurious 650 GSM neutral stone colour towel is woven using 100% Supima cotton in the pile and has the added benefit of Chrisy's unique Hygro technology. Supima cotton produces one of the finest cotton yarns with its extra long fibres giving a luxurious, silky handle which is exceptionally soft to touch. Their patented Hygro technology provides additional...