Stellar
---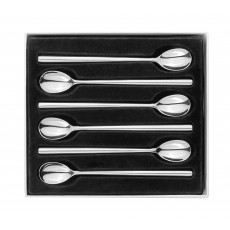 Stellar Rochester 6 Piece Latte Spoon Set
This gorgeous Rochester 6 piece latte spoon set from Stellar is made from beautiful 18/10 stainless steel and will add a bit of style to your lattes at home. Featuring a simple design, it comes in its own box; so it's perfect to use in your own home or to purchase as a gift. For features – see belowFeature & Care InstructionsIncludes 6 latte spoonsHigh grade 18/10 stainless steelWash in warm...
Stellar Stick Blender
This Stellar stick blender is a necessity in any kitchen and is perfect for soups, smoothies and even baby food. Simply adjust the power and speed for different food types or use a slower power for whipping and beating. The turbo mode packs a punch; it's a quick and easy extra burst of power. The hand blender has sharp stainless steel hard wearing blades, a stylish brushed stainless steel body with...