JAY-BE
JAY-BE beds describe themselves as offering innovative sleeping solutions. As guest bed specialists in the heart of the UK's Yorkshire countryside, JAY-BE continuously evolve their product offering, developing quality fold away beds that will last the test of time.
Founded in the 1980s but with roots dating back to 1879, the company ensures that reliability, integrity, and innovation will always be at the heart of everything they do. To this end they offer a lifetime guarantee with all their models.
At Meubles we stock a range of guest beds and folding beds from JAY-BE in a choice of sizes, price points and features.
---
JAY-BE Single Footstool Guest Bed with Airflow Fibre Mattress
Hiding within a modern footstool this space saving guest bed will complement any interior space. Its unique roll-out mechanism allows it to be transformed into a comfortable bed in seconds. Resting on the sprung bed base the mattress combines two layers of Airflow fibre for exceptional support and comfort. A soft layer provides pressure relief and a higher density lower layer offers extra support....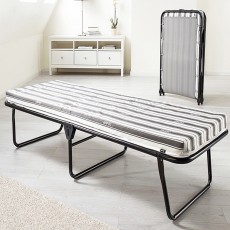 JAY-BE Value Single Folding Bed With Air Flow Mattress
This lightweight and portable Jay-Be Value Airflow single fold up bed is the perfect option for creating additional sleeping space. Its compact design when folded means that it can be stored almost anywhere; under a bed, in a wardrobe or even the boot of your car when visiting family and friends. For features - see belowDimensions OpenWidth: 70cm Height: 39cm Length: 186cmFeaturesJ-Tex® Sprung...