New In
At Meubles our buying teams continuously strive to source the best quality products married with the latest in design and style. Here's a snapshot of new products launched either in-store or available to purchase on our website in this category. Ensure to check back regularly!
---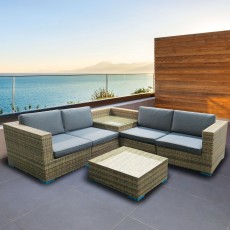 Katie Blake Chatsworth 4+ Corner Sofa with Storage Table & Coffee Table Grey
The Chatsworth L shaped outdoor sofa set by Katie Blake is super stylish and functional. It provides great relaxing comfort when enjoying the outdoors in the easiness of your own garden. What's more, its non-rust aluminium frame and stylish grey washable cushions offer great practicality. The set includes 2 sofas, a corner storage unit with glass top and a glass top coffee table. For features –...
Katie Blake Sandringham 3 Curved Bench Set With Parasol/Lazy Susan Natural
The Sandringham 8+ seater curved bench dining set by Katie Blake features a large table and a stunning curved sofa which is guaranteed to be the focal point in your garden this summer. The deep sofa seats are comfortable and supportive and the circular shape makes it perfect for gathering friends and family and enjoying a meal or a drink in the sunshine. This unique set features a flat rattan design...