New In
At Meubles our buying teams continuously strive to source the best quality products married with the latest in design and style. Here's a snapshot of new products launched either in-store or available to purchase on our website in this category. Ensure to check back regularly!
---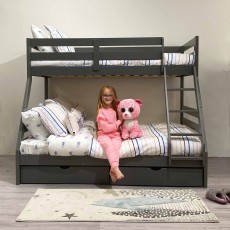 Solar Grey Painted Triple Teen Bunk Bed
The Solar Teen Bunk in grey offers great space for the growing child. With its double and single bed it offers great flexibility such as the novely of sleeping on the top bunk when they're smaller to a large double bed as they grow. It also is a practical solution when space is limited. It comes complete with a ladder and safety rail as standard. It features clean lines so will easily adapt into most...