Kids Beds
Find the perfect bed for your child whether they're a little one or a not so little pre-teen. At Meubles we have a great range of children's beds from starter beds to teen beds in a great range of colours and price points. Many have matching bedroom furniture or can easily be matched with other pieces. Browse our collection to find the bed that's right for your needs.
---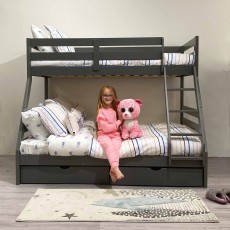 Solar Grey Painted Triple Teen Bunk Bed
The Solar Teen Bunk in grey offers great space for the growing child. With its double and single bed it offers great flexibility such as the novely of sleeping on the top bunk when they're smaller to a large double bed as they grow. It also is a practical solution when space is limited. It comes complete with a ladder and safety rail as standard. It features clean lines so will easily adapt into most...