---
LSA 26cm Polka Vase Sheer Zinc
Pretty and stylish, LSA International's Polka collection instantly adds a hint of glamour. This spherical vase is mouthblown by skilled artisans and hand-painted with an iridescent sheer zinc lustre. Individually gift boxed. For features - see belowFeatures & Care InstructionsMouthblown and hand-paintedIdeal gift ideaIndividually boxedAvailable in other coloursPlease note that images are for illustration...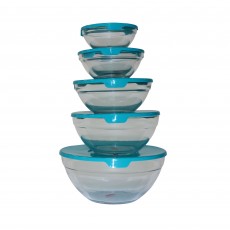 MAXIM 5 Piece Glass Bowl & Lid Stackable Set
This five piece glass bowl and lid set is ideal for storing solid food and liquids. They can also be used for mixing. Their great tight-fitted lids will allow you to keep your food fresh for longer. Choice of colours available.Features & Care Instructions5-oz. bowl8-oz. bowl12-oz. bowl19-oz. bowl32-oz. bowlMicrowave, dishwasher, and refrigerator-safeEtched with a slight wave patternStackable when...